How does an AI-controlled defrosting of cold rooms work?
Just as you should regularly defrost your refrigerator at home, industrial cold rooms also require defrosting. Usually, defrosting is done without a detailed analysis of when it really makes sense and how long the process should take.
Coldsense technology breaks new ground: For the first time, you can defrost your cold room in accordance with real-time data and actual operating status.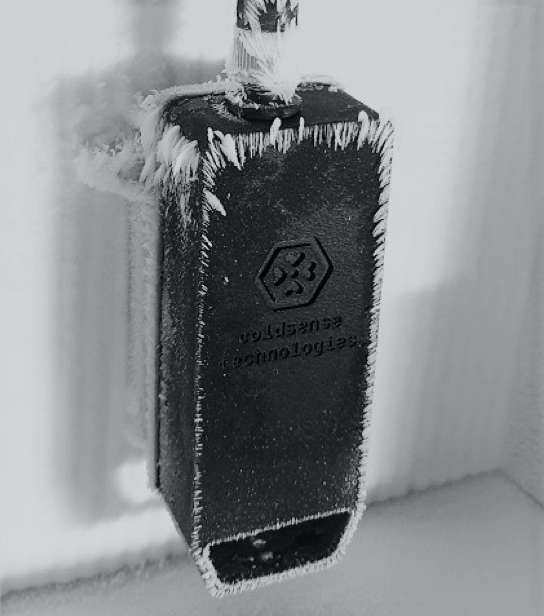 The world's first direct detection of ice on the heat exchanger
Conventional defrosting methods are based on indirect detection of ice, for example, via temperature sensors. With the Coldsense ice sensors, direct detection of rough, mixed and clear ice at the evaporator of the refrigeration system is now possible for the first time.
The sensors combine different measuring principles and build up a narrow electromagnetic field that changes even with minimal ice formation at the sensor. This change is precisely detected.
In this way, both the start and the length of each defrosting process can be precisely controlled.
Additional measurement values
In addition to automated ice buildup monitoring, Coldsense uses environmental sensors and door sensors in the cold room. The measured signals or changes in magnitude are evaluated using advanced AI algorithms to further optimize defrosting.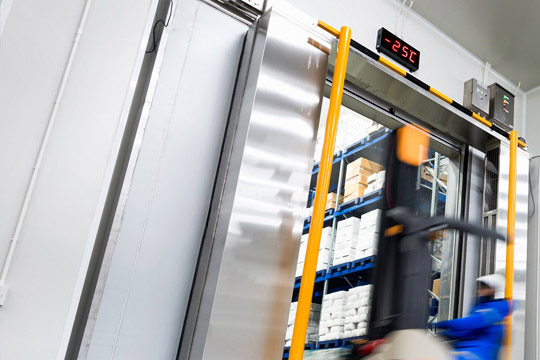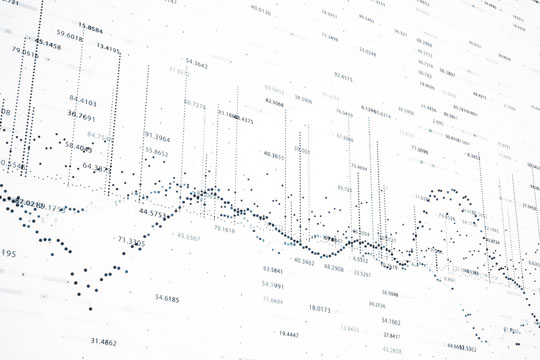 AI supports optimal control
Among other things, we use supervised learning methods to determine certain patterns of usage behaviour from sensor data. Supervised learning recognizes logistics processes and independently adjusts the control of the refrigeration system.
For each cold room equipped with Coldsense technology, you receive a monthly report on energy efficiency, product safety and environmental performance. The report informs you about the amount of electricity and CO2 saved, among other things. We also provide key figures on defrosting time and temperature stability.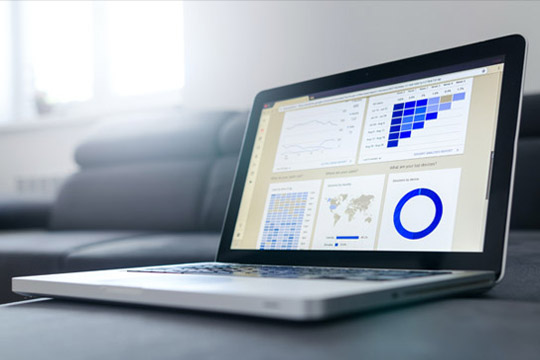 Would you like to save even more electricity? Then let us take it a step further: on request, we additionally couple AI-controlled defrosting with the cheapest available energy source at any given time. In this way, extra energy savings of around 10% can be achieved.
Example of coupling defrosting with a PV system.
We turn your cold room into an energy storage unit: the excess energy from your PV system is diverted to the refrigeration unit. The cold room is then temporarily cooled down further.
If defrosting of the evaporator becomes necessary, we use the surplus energy of your PV system for this purpose. This way, you can reduce the purchase of expensive electricity.
Frequently asked questions
Hidden Item
makes 01 collapse
What is the benefit of integrating Coldsense technology into our cold room?
First of all, you will improve your company's carbon footprint. With Coldsense technology, you will achieve a significant reduction in your electricity consumption of up to 20%. If the energy flows required for defrosting are also optimized, the savings potential is around 30%. At the same time, your technical team will benefit from detailed live monitoring of the refrigeration system and will be able to reliably prevent icing-related material damage to the refrigeration system and ensure that the cold chain is maintained.
How quickly does the investment in Coldsense technology pay back?
The payback period depends on the complexity of the individual project and is determined by us as part of a consumption analysis. The payback period for classical projects for which no factory-wide intelligent energy control concept is created is on average 24 months (due to the electricity savings alone). However, many users also benefit from greater reliability of the refrigeration system and detailed analyses of logistical movements in the warehouse, which brings further business advantages.
Where is Coldsense technology already in use?
Coldsense works for a wide range of customers, both in Germany and abroad. We have already equipped NK and TK rooms as well as freezers with our technology. Cooling capacities range from 50 kW to 2.7 MW. Whether penthouse, chamber or floor-standing air coolers, we deliver tailor-made solutions for your individual needs. We are flexible with regards to our customers' industries: from large deep-freeze logistics companies to the pharmaceutical sector and company canteens, a wide variety of industries benefit from our solutions.
Does Coldsense also offer solutions for company-wide energy management?
Energy efficiency is a central concern for Coldsense. In addition to our system solutions for intelligent defrosting, we offer a wide range of options for integrating photovoltaics, combined heat and power plants and energy storage systems into a control concept for holistic energy management. This allows you to be independent from the volatile developments in the electricity and gas markets.
Questions about the technology
Hidden Item
makes 01 collapse
What is the difference between Coldsense's AI-controlled defrosting and on-demand defrosting?
The term "on-demand defrosting" is misleading because defrosting is not done on demand. Demand defrost systems rely on indirect measurements of temperature and pressure drop. Based on these indirect measurements, the user must decide whether a predefined defrost time can be skipped.
Coldsense's solution measures ice formation directly at the evaporator and takes this measurement into account when controlling defrosting. With Coldsense, real-time monitoring of ice formation and, accordingly, defrosting is possible for the first time in keeping with the actual operating status of the refrigeration system.
What does AI mean in relation to the Coldsense system?
Artificial intelligence (AI) is a branch of computer science that deals with the automation of intelligent behaviour and machine learning.
Arthur Samuel provided a different definition of machine learning in 1959, "Machine learning is a field that gives computers the ability to learn without being explicitly programmed." (Source: Samuel, Arthur L. (1959). "Some Studies in Machine Learning Using the Game of Checkers." IBM Journal of Research and Development. 44: 206-226. CiteSeerX 10.1.1.368.2254. doi:10.1147/rd.441.0206)
Supervised learning is a machine learning method. Coldsense uses supervised learning methods, among others, to identify specific patterns of user behaviour from data.
BConsider the example of movements through the doorway of an industrial cold room. Every operation involves different logistics. Some operations are carried out from 9 a.m. to 5 p.m., some during the night, others on weekends. Coldsense's AI analyzes the door movements and recognizes the flow of logistics in your company and thus the moisture input on the evaporators. As a result, defrosting can be customized.
How does the system react in case of power failure or similar faults?
A high level of fail-safety is an integral part of our control system. We detect errors and anomalies in the operation of cold storage rooms at an early stage. We have also implemented interception mechanisms for unforeseeable faults (for example, a forklift driver drives into electrical installation duct and cuts cables), which we coordinate with your refrigeration system builder.
Does the Coldsense technology package take over the complete control of the refrigeration system?
No. Our system solution is designed as an add-on to existing refrigeration plant control systems. We tell the system when to defrost and for how long. The specific control of the compressors and expansion valves continues to be handled by the refrigeration system. This is, of course, done in detailed coordination with your refrigeration contractor.
Our room already has temperature sensors. Can these also be used by Coldsense?
We will check this on a case-by-case basis during the walk-through of your facility during the bidding phase. Of course, we try not to duplicate sensor technology in your space.
Questions about the installation
Hidden Item
makes 01 collapse
Can the Coldsense system be linked to the building management system?
Yes. Large companies in particular are increasingly relying on centralized automation technology. Of course, we have standardized interfaces for leading providers of building control technology.
How time-consuming is the installation of the Coldsense system solution?
Typically, installation in a room is completed within two hours. To ensure that the installation goes smoothly, we accompany your teams of technicians even before the installation through targeted meetings and provide extensive documentation. Our trained service personnel are available by phone to answer questions during installation.
Can Coldsense technology be upgraded?
Yes. The system solution for AI-controlled defrosting can also be integrated into existing refrigeration systems. The sensors are simply mounted on existing components.
Do your customers have cold rooms? Read here why you should recommend Coldsense technology to reduce electricity costs.
Find out here what advantages AI-controlled defrosting offers for planning refrigeration systems – and how it simplifies your day-to-day work.
Contact us now for a free initial consultation – we look forward to a personal exchange with you! We would be happy to answer all your questions about AI-controlled cold room defrosting and show you how your company can benefit from Coldsense technology.