AI-controlled defrosting of cold rooms
Up to 20% less power consumption – better CO2 footprint – higher product safety
Not your branch? We can do even more!
AI-controlled defrosting of cold rooms
Up to 20% less power consumption – better CO2 footprint – higher product safety
Not your branch? We can do even more!
We ensure a fail-safe performance of your cold storage facility and increase its energy efficiency
Do you want to reduce electricity costs for your cold storage? Do you want to reliably prevent icing-related malfunctions and failures of your refrigeration system? Then we have the right solution for you!
System solution consisting of sensors and AI
Coldsense combines ice sensors, door sensors and environmental sensors with supervised learning methods to control the defrosting of the cold room according to the actual operating status. This means that defrosting only takes place when it is really necessary – and that saves a lot of energy.
Reliable icing protection of all components
Optimized defrosting through real-time monitoring of the refrigeration system
Key figures on energy and CO2 savings, temperature stability, etc.
Our system solution enables automated monitoring of ice buildup directly at the evaporator of the refrigeration unit for the first time. The sensor we developed measures how the ice grows and melts so that defrosting can be started and stopped with pinpoint accuracy.
Artificial intelligence on board
Thanks to modern algorithms and artificial intelligence, our system also evaluates irregularly incoming goods, moisture input, door movements and other environmental factors to further optimize the defrosting of the cold room.
Also possible: coupling defrosting with other energy generators to save even more electricity.
Just-in-time defrosting of cold room
Example calculation: how to save money with AI-controlled defrosting
Coldsense technologies are suitable for refrigeration systems of any type and in any industrial context – from the food sector to low-temperature applications in the chemical and pharmaceutical sectors to climate chamber applications in the automotive industry. The basic Coldsense principle is always the same and can be applied to any application. We carry out both the retrofitting of existing plants and the implementation in new plants. The use of Coldsense technologies pays off quickly.
Cold store with freezers, cold and cold rooms, the total cooling capacity of 304 kW
Electrical connected load of the refrigeration plant:
92 kW.
Efficiency increase of the refrigeration plant due to our technology:
20,3%
Average electricity price:
31.36 ct/kWh
Annual electricity savings:
163,602 kWh or 51,305 euro.
Our approach step by step
Hidden Item
makes 01 collapse
Step 1: Getting to know you
We visit your cold rooms on-site and analyze your needs. For the analysis, we need as accurate a picture as possible of the current situation. That's why we take the time for a detailed discussion, in which we discuss all technical and business details of the cold storage rooms. We will also introduce you to the operating principle of AI-controlled defrosting and explain how Coldsense technology can be integrated into your refrigeration system.
Step 2: Consumption analysis, project planning and presentation
As a follow-up, we analyze the refrigeration technology installed in your plant. In doing so, we consider the following questions, among others:
How many heat exchangers with which cooling capacity are installed?
How often are they defrosted and which defrosting technology is used (electric, hot gas, circulating air, etc.)?
Which compressors are installed and how often are they used?
Which electricity tariff do you have? How high is the electricity consumption?
What kind of technology package can Coldsense contribute in order to reduce energy consumption?
What savings can Coldsense actually achieve in a specific case?
Business analysis: costs vs savings, payback period and funding opportunities
We present the results of the analysis on-site at your company.
Step 3: Implementation
We customize the technology package and, depending on the customer's requirements, the cabling, create an installation plan and discuss it with you.
Then we deliver the technical package. The installation of the technical components is carried out by your plant engineer, your own team or, if you wish, by Coldsense. We then perform on-site commissioning. This includes, among other things, the testing of the installed sensors, the installation of the control technology and AI software, as well as functional tests.
Step 4: Further support: the learning phase and monthly reporting.
Our data engineering team analyzes the data collected via sensors and monitors the learning of AI intelligence. After about three months, the learning phase is completed and the controller is activated.
You receive monthly reports documenting your savings from Coldsense technology. Upon customer request, we can extend our service package with extensive additional services, such as:
A well-rounded solution: Our technology and service package
Our system solution is based on a combination of hardware (technology) and data-based services (service). The technology package includes all sensors and materials required for monitoring and intelligent control of the refrigeration system. The service package includes the refinement, analysis and interpretation of the acquired sensor data.

With the deployment of Coldsense Technologies' intelligent defrosting system in Mensa I, which we operate at TU Braunschweig, we have taken a big step forward in this regard. The data from the door movements of our cold room has helped us to better understand and optimize our operations. As a result, we have been able to reduce energy consumption in the cold rooms by 16%.
Sabine Herrmann
Head of Construction and Operations | University Catering Studierendenwerk OstNiedersachsen
Mar 13, 2023

Saving money while doing good for the climate: with the help of Coldsense, we were able to reduce the energy consumption of our defrosting system by a third.
Viktor Feder
Technical Manager | Leis Gmbh
May 16, 2022

Cold storage and icing have occupied the refrigeration industry for many decades. The technology and the people at Coldsense have excited me from the beginning. The innovations created here will sustainably improve the operation of cold stores
Daniel Hattenbach
Technology | After Sales & Development / Christof Fischer GmbH
Mar 13, 2023
Energy is expensive and energy efficiency is becoming a survival criterion for many companies. Coldsense delivers great added value for cold stores with intelligent defrosting. A crucial building block for successful energy consulting in food and pharmaceutical logistics.
Michael Maschkowitz
Head of Energy & Sustainability / M&P Braunschweig GmbH
Mar 13, 2023

We are very satisfied with Coldsense's services and are happy to recommend the company. I would like to thank the team for the excellent cooperation, which we intend to continue in the future if necessary.
Thorsten Heinke
Senior Program Manager | Aerodata AG
Mar 13, 2023
Mensa 1
More energy efficiency and sustainability in university canteens
In September 2022, Mensa 1 in Braunschweig was equipped with the AI-controlled defrost system and has been saving more than 13% of electricity costs
Braunschweiger Startup
8.11.2022 | Braunschweiger Zeitung
Braunschweig-based startup Coldsense builds sensors to combat icing
Retailers and logistics companies with cold storage facilities can save thousands of kilowatt hours of energy and reduce their carbon footprint.
Effizient gegen Vereisung
Coldsense Technologies uses its expertise from university research to make cold room operations more energy efficient.
Neue Systemlösung
1/2022 | Kälte Klima Aktuell
New system solutions to increase energy efficiency in cold rooms
The Coldsense system solution: Innovative ice sensors and AI-based control to increase energy efficiency explained for refrigeration experts.
So kann Deutschland
Here's how Germany can save a lot more gas
Rising gas prices pose major challenges for logistics operations. Coldsense offers solutions to save energy.
Coldsense does excellent work – as the following award impressively proves:
Slide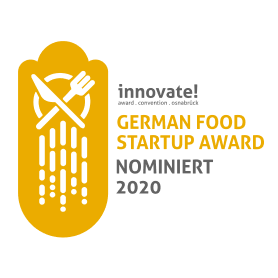 innovate! is considered the most prestigious award for startups that transform the food industry with disruptive ideas. Coldsense received the nomination in 2020 for its automated ice detection and defrosting equipment for refrigeration machines, which reliably prevents the interruption of the cold chain that is so dangerous for the food industry.
Do your customers run cold rooms? Read here why you should recommend Coldsense technology to reduce electricity costs.
Find out here what advantages AI-controlled defrosting offers for planning refrigeration systems – and how it simplifies your day-to-day work.
Contact us now for a free initial consultation – we look forward to a personal exchange with you! We would be happy to answer all your questions about AI-controlled cold room defrosting and show how your company can benefit from Coldsense technology.