Working closely with energy consultants
Energy optimization of refrigeration systems with Coldsense technology
Did you know that the regularly necessary defrosting of industrial refrigeration systems costs an enormous amount of energy? This offers a huge potential for energy saving, which you as an energy consultant can unlock with our help!
The intelligent defrosting system from Coldsense ensures that defrosting only takes place when and for as long as it is really necessary. Your customer receives monthly reports with key figures showing the achieved energy savings.
This is what Coldsense offers to your customer
Proven up to 20% energy savings thanks to AI-controlled defrost control.
Electricity cost reduction is quantifiable through reports
Easy to upgrade solution, installed within a few hours
Integration into existing building control system possible
Eligible investment for governmental funding
What we offer for energy consultants
We take care of the initial consumption analysis with an exact calculation of the savings potential for your client and the payback period.
We help you to profitably integrate our defrosting system into a factory-wide energy concept and to link it with other power consumers and generators.
We support you in integrating our technology into an energy management system, including the necessary documentation.
Energy is expensive and energy efficiency is becoming a survival criterion for many companies. Coldsense delivers great added value for cold stores with intelligent defrosting. A crucial building block for successful energy consulting in food and pharmaceutical logistics.
Michael Maschkowitz
Head of Energy & Sustainability / M&P Braunschweig GmbH
Mar 13, 2023
An investment that pays off
Companies from a wide range of industries benefit from our solution. Tell us about your specific application – we will calculate the potential savings that we can achieve together for your customer!
Food logistics company with its own fleet of vehicles and several national subsidiaries. Power supply via medium voltage grid, PV system and combined heat and power plant.
Refrigerated shelf area: 622.2 m²
Electricity consumption: 462,624 kWh per year
Savings: 28,541.14 euro per year
Meat producers with two refrigeration tunnels, two spiral freezers and six deep-freeze warehouses
Cooling capacity: 4.996 kW
Electricity consumption: 9.29 GWh per year
Savings: 62.995,04 euro per year
Production plant with a mixed infrastructure of compression chillers and chillers with a higher-level building control system.
Cooling capacity: 1,556 kW
Electricity consumption: 4.21 GWh per year
Savings: 111,771 euro per year
Frequently asked questions by energy consultants
Hidden Item
makes 01 collapse
How does Coldsense's AI-controlled defrost control work?
A detailed description is provided on the The Operating Concept page. Still have questions? Feel free to contact us at any time!
What distinguishes Coldsense from other defrost systems?
Coldsense defrosting technology is the first system to allow direct measurement of ice formation in real-time. Thus, the defrosting of the refrigeration system is based on the actual operating condition.
All other systems available on the market rely on indirect temperature and pressure drop measurements. The defrosting precision that can be achieved this way is significantly lower than that of our technology.
How much does the Coldsense system cost and what are the potential savings?
The payback period depends on the complexity of the individual project and is determined by us as part of a consumption analysis. Classical projects, for which no factory-wide intelligent energy control concept is created, pay for themselves on average after about 24 months – only in terms of electricity savings. However, many users also benefit from the greater reliability of the refrigeration system and detailed analysis of logistical movements in the warehouse, which brings further business advantages.
My customer receives monthly reports on the electricity cost reduction achieved. Do I have to take care of this?
No! Regular reporting is part of our service package.
Can I visit one of your reference projects with my customer?
With pleasure! Please contact us.
Coldsense Technologies was founded in 2019 by three scientists – Stephan Bansmer, David Burzynski and Juan Velandia – who built it on their many years of icing research at the TU Braunschweig. We are a young company, but we have experienced employees on board who will find the best solution for you with a lot of dedication and commitment.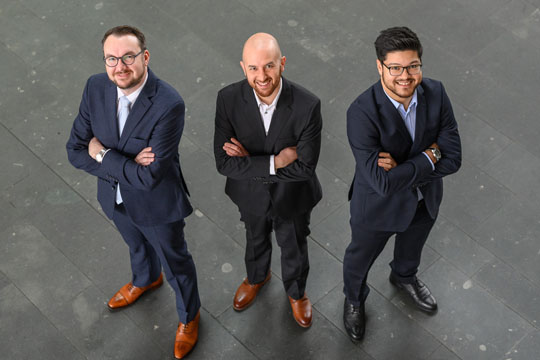 Contact us now for a free initial consultation – we look forward to a personal exchange with you! We will be happy to answer all your questions about AI-controlled defrosting of cold rooms and show how your company can benefit from Coldsense technology.